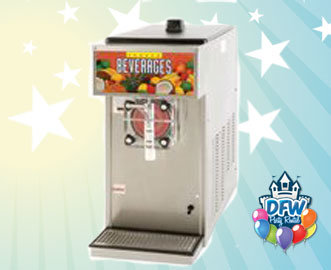 Frozen Drink Machine
Setup Area: Requires flat smooth path without steps to install location
Outlets: 1 Dedicated Regular Household Outlet within 10 foot of machines location. Absolutely no extention cords.




This page has been moved. If you are not redirected within 3 seconds, click here to go to the HubSpot homepage.
FROZEN DRINK MACHINE RENTAL
Sorry, We no longer rent Drink Machines
Our frozen margarita machine rentals provide any event a continuous flow of a variety of delicious margarita mixes flavors. With frozen margarita machines from DFW Party Rental, you can have margaritas all night long without the hassle of mixing, blending, pouring, and refilling. Once you fill the frozen margarita machine for the amount of people you are having, you can have instant pouring margaritas at your fingertips with no hassle, no setup, and no cleanup.
Make sure your next party is a success by ordering a frozen drink machine from DFW Party Rental. Enjoy playing host to your guests and not slaving over noisy blenders or playing bar tender. Incorporating a frozen drink machine at your next Event will allow you to serve Frozen Margaritas, or any combination of alcoholic or nonalcoholic drinks!
All of our frozen drink machines are stainless steel insulated models, they will work outdoors and keep with the pace of the party. All models offer a continuous flow design; there is no refreeze time between batches. Don't let the name fool you, DFW Party Rental also carries Pina Colada, Strawberry Margarita, Strawberry Daiquiri and Frozen Lemonaid. With DFW Party Rental you can enjoy both alcoholic and non-alcoholic frozen beverages.
If you are wondering what a margarita machine is... it's sometimes referred to as a frozen beverage machine, or a frozen drink machine. We choose not to use a slush machines, or granita machines. DFW Party Rentals frozen drink machines are the same ones used in your favorite restaurant. If you are still unclear think of a "magic box" where you put in your choice of our frozen drink mix and out comes your favorite frozen concoction.
Let DFW Party Rental be your "lucky charm"...NO BLENDER, NO ICE, NO MESS, and most of all NO HEADACHES! Let the machine do the work, while you enjoy the party.
We can not lift this machine up any stairs, machine must be installed on floor level or have an elevator. We do not allow use of extension cords with these machines. We need to set the machine right next to an outlet. We also do not allow these machines to be used with generators.
Includes:
50 plastic cups.
Frozen Drink Machine
Rolling Cart with Skirt
5 Gallon mixing jugOne container of rimming salt when used for Margaritas.
** Make sure to add a mix flavor to your cart. Each quantity you add will serve around 50 servings. If you choose to use your own mix, we do not guarantee it will work with our machine.
You just supply the alcohol and water.
Rental period for this machine is 24 hours. Rental fee's increase accordingly for any additional time needed. If you need to keep the items later than 8 PM, please pick the following morning for your event end time.