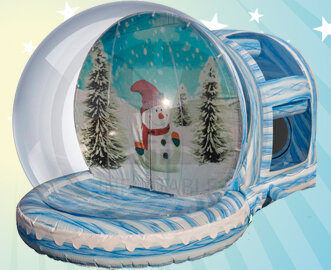 Giant Snow Globe
Actual Size: 19 L X 12 W x 12 T
Setup Area: 20Wx25Lx13T
Outlets: 2
Age Group: All Ages with Supervision
Attendants: 3




Giant Inflatable Snow Globe Rental
Not a Bounce House
🌨️✨ Step into a winter wonderland with our Inflatable Snow Globe Rental – where the magic of snowfall, festive cheer, and photo-worthy moments come together to create an enchanting experience at your event! ❄️📸
🌟 Capture the Magic! 🌟
Transform your event into a snowy spectacle with our Inflatable Snow Globe Rental. This life-sized snow globe provides the perfect backdrop for memorable photos, giving your guests the chance to step inside a winter dreamscape and capture the magic of the moment.
📸 Picture-Perfect Memories! 📸Every event needs a standout attraction, and our Inflatable Snow Globe is just that. From holiday parties to winter weddings, it adds a touch of magic that turns ordinary gatherings into picture-perfect memories. Let your guests step into a scene straight out of a snowy postcard.
🌐 Portable Frosty Fun, Anywhere, Anytime! 🌐Our Inflatable Snow Globe is easy to set up and transport, making it a portable addition to any venue. From corporate holiday parties to community festivals, bring the magic of winter wherever your event takes place.
🎟️ Book Your Snowy Escape Today! 🎟️
Don't miss the chance to add a touch of winter magic to your event. Reserve your Inflatable Snow Globe now and let the snowfall commence. It's not just a rental; it's an invitation to a snow-filled experience that will be treasured in photos and memories.
👉 Ready to create a winter wonderland? Secure your Inflatable Snow Globe Rental now for an event that's as magical as the first snowfall! ❄️🌲
Rental time is for up to 2 hours for the advertised price then $125 per hour after. You will need two volunteers from the event to monitor loading and unloading and possibly one more to take pictures.
Power Requirements- Three regular household outlets. Two on seperate circuits. If you do not have the needed power outlets available, one of our small generators will run this unit.
Attendant Requirements- For busy events we reccomend three monitors to run the globe, we provide one. Two monitors to load and unload and the third to help take pictures.
Step right up, or should we say inside our giant inflatable snow globe rental! These amazing new structures are the perfect photo opportunity at your next event. A holiday party favorite, that's for sure. Gather around while your guests step into the entrance chamber in the back of the snow globe then enter in front of the themed backdrop. Strike a pose or two while you get some everlasting memories created. Each snow globe can be decorated inside for additional holiday decor. Perfect idea for Christmas parties or those Winter Wonderland events. These amazing snow globes can be used indoors or outdoors.
The snow globe can fit up to 6 guests inside at one time. Just enter, pose, snap a photo with a camera or phone and you'll have a memorable photo souvenir to share with your friends.
IMPORTANT NOTE: Although they may look like it, these are NOT bounce houses. They are NOT designed to be jumped in by any means. Please don't rent a snow globe with the intent to allow your guests to jump inside as it may cause injury or damage to the inflatable.