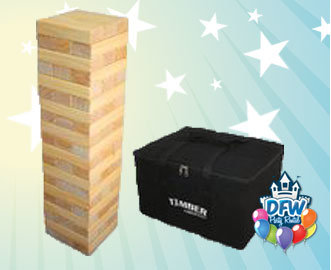 Giant Timber Game
Giant Jenga Game Rental
Get ready to take your party to the next level with the best look in tumbling tower games!!!
TIMBER has 20 rows of 60 - 7.5" x 2.5" x 1.5" silky smooth sanded pine wood.
Impress your favorite crowd with a larger than life twist on board gaming. This classical game is hard not to love with adrenaline and anticipation building between each turn, magnified with this JUMBO version.