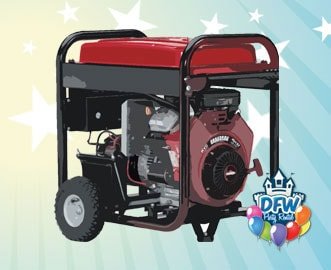 Large Generator
Includes one full tank of gas. Run time will vary depending on loads. It is your responsability to monitor gas levels during event.
Estimated Run Time:
1 Blower = 10 Hours
2 Blowers = 8 Hours
3 Blowers = 6 Hours
4 Blowers (Max) = 4 Hours
Will be needed if no electricity is available at your party location.
This generator will run up to FOUR blowers. Most inflatables will only use one blower per inflatable. Some larger units will use more than one blower. Make sure to check the items desription. Units with more than one blower will say so in the description. If you have any questions, please ask.
This item is not discountable.