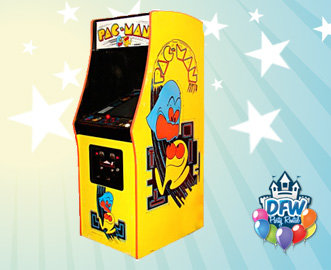 Pac-Man Upright Arcade Game
Actual Size: 26"W x 34"L x 73"H
Setup Area: 3' x 3'
Outlets: 1 Regular Household Outlet
Age Group: 4 and up




Pac-Man is a classic video arcade game developed by Namco and licensed for distribution in the United States by Midway in 1980, instantly becoming one of the highest grossing and most recognizable arcade games of all time. Great Retro Arcade Game Rental for any event pr party.
Game play consists of navigating yellow, pie-shaped titular character Pac Man through a series of mazes, eating pellets and fruit, while avoiding four ghost enemies. Each maze has its own bonus fruit with points increasing as the game progresses. When all the pellets on a level have been consumed, Pac-Man progresses to the next level. Pac-Man was notable in the video gaming industry for a number of reasons, including producing the first video game mascot, establishing the maze-chase video game genre, being the first video game to feature power-ups, and for its use of cut scenes, in the form of brief comical interludes showing Pac Man and the monsters chasing each other around the screen between levels.
Click HERE to view all of our arcade game options.
** Can only be used indoors, no steps or steep inclines to install area.
* Great for parties, school festivals , church carnivals and corporate events