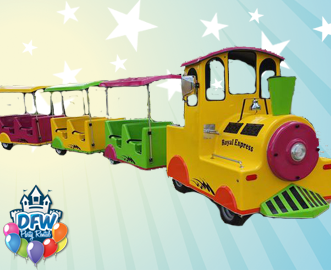 Trackless Train Rental
Attendants: 1 Volunteer to assist with loading and unloading cars. We provide the conductor.





Please call 888-584-6424 to reserve this item

🚂 All aboard the future of family fun – introducing our cutting-edge Trackless Train! 🌟 Get ready for a ride that combines nostalgia with modern technology, creating an unforgettable experience for all ages! 🚂🎉
🌈 The Freedom to Roam! 🌈
Say goodbye to tracks and hello to freedom! Our Trackless Train offers the flexibility to meander through any event space, bringing the excitement and charm of a train ride to festivals, amusement parks, and private events without limitations.
🔧 Effortless Operation and Maintenance! 🔧
No need for complicated tracks and maintenance routines. Our Trackless Train is designed with simplicity in mind. Operate it with ease and keep the fun on track without the hassle of constant maintenance – ensuring a smooth ride for both operators and passengers.
🎉 A Whistle-Stop Tour of Joy! 🎉
Picture this: families and friends hopping aboard, waving as the train sets off on a whistle-stop tour of delight. The Trackless Train is not just a ride; it's a journey filled with laughter, smiles, and the shared joy of togetherness.
🌟 Customizable Themes for Every Occasion! 🌟
Transform our Trackless Train to match the theme of your event! From whimsical characters for children's parties to elegant decor for weddings, our versatile train can be customized to suit any occasion, making it the perfect addition to your event planning toolkit.
🎫 An Investment in Smiles and Memories! 🎫
Invest in happiness with our Trackless Train. As a timeless attraction, it promises a return on investment in smiles, laughter, and cherished memories. It's not just a ride; it's an investment in creating unforgettable moments that will be talked about long after the event ends.
🚂 Book Your Ticket to Fun Today! 🚂
Seize the opportunity to elevate your events with the charm and allure of our Trackless Train. Whether you're a seasoned event planner or a venue owner looking to add a touch of magic, our Trackless Train is the perfect solution.
👉 Don't miss the chance to be the talk of the town with the Trackless Train experience – where the journey is as delightful as the destination! 🚂🌟

Advertised price is for up to 2 hours - additional hours can be added for an additional hourly fee. Includes delivery, setup and conductor to drive train.
Imagine the look on your child's face when they see a train pull up to their front door to pick them up complete with all the bells and whistles! Our Train has a bell, whistle and a happy train conductor!
The trackless train can seat 12 kids or 9 adults and is ideal for all types of special events for your North Dallas event. This trackless train can travel just about anywhere because it does not require any train tracks. The trackless train can run on any flat surface like asphalt, paved surfaces, grass, etc, as long as the surface is dry, firm and level.
The floor of the passenger train cars are low to the ground so kid's little legs can easily climb aboard the trackless train. Each car will hold at least two adults or three-four kids comfortably. A trackless train is one of the only "kiddie rides" that adults can ride with their kids. Everyone loves to wave and ride on a trackless train.
Perfect for, Children, Kids Birthday Parities, Entertaining Guest, Corporate Events, Grand Openings, Halloween, Holiday Parties, Company Picnics, School Functions, Product Promotion, Church Functions, Fundraisers, Opening Day, Festivals, Street Fair, Sporting Event, Festival, Block Parties, Open House, and much more.